Due to maintenance needs, UCPath Online will be unavailable to all users on Sunday, July 21, from 4:30 a.m. to 12:30 p.m. (Pacific Time)
News

Starting July 1st the UCPath Campus Support Center (CSC) will be dedicated to providing cross-functional UCPath support to the campus community. The CSC will work in collaboration and alongside Business Financial Services, Academic Personnel, Human Resources Financial Planning & Analysis, and Information Technology Solutions on UCPath initiatives and issue resolution. The CSC will provide support, training and services to the campus Shared Service Centers, transactional units, organizational units, departments, central offices, faculty, staff and non-faculty academic employees. The CSC will work in close partnership with the UCPC, campus Shared Service Centers and other central functional areas including the Graduate Division and Labor Relations.

The CSC is engaged in an effort to improve how the campus uses UCPath. In the fall of 2018 campus executive leadership requested that the UCR project team undertake a review of the FOM | UCPath Implementation. The request included a review of our campus UCPath transaction processing model that would result in changes that potentially increase visibility and reduce redundancy. The project team's review effort included collecting feedback from campus leadership, Shared Services Center staff, campus operational staff, central offices, and the UCPath Center. The result of the review effort is a pilot program that leverages delivered UCPath PeopleSoft workflow to increase UCR visibility into UCPath transactions. In addition, the proposal is anticipated to minimize re-keying of data, by moving selected UCPath transactional activity closer to the source (i.e., transactional unit). The pilot will provide this access through summer and fall of this year. These efforts will be evaluated towards the end of this year and if successful may be implemented more broadly moving forward with this distributed model.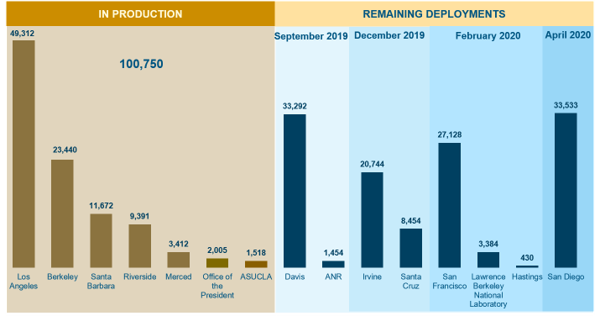 There are many UC deployments set to deploy throughout 2020. We are working to minimize disruption to campus by working proactively to address issues that may arise. In the meantime, we are trying to set the campus up for
long term success with UCPath. In order to do this UCR is planning to move from a UCPath pilot project structure to a UCPath long term operational structure.